What is better than a box full of puppies? A PAPER PUMPKIN SUBSCRIPTION IS!
Sign up by the 10th of ANY month to receive that month's kit
Paper Pumpkin is an incredible craft box subscription that arrives at your door each and every month with predesigned projects inside. There's no looking for ideas on Pinterest or searching for the perfect ribbon, it's all there and ready to go! PLUS you always have me for extra inspiration. See all my Paper Pumpkin Unboxings and Alternative Cards HERE
What's even more spectacular about this summery kit? The add-on that's available along with it!
The Summer Nights Add-On includes 24 pre-printed card bases and envelopes, expanding the Summer Nights crafting experience by offering a traditional cardmaking opportunity. When combined with the leftover pieces from July's kit, at least 20 additional cards can be made!
Purchase the Summer Nights Add-On Online at STARTING July 1st, while supplies last!
Celebrate the magic of summer nights with the Summer Nights Paper Pumpkin Kit! In this exclusive fun-filled kit, you'll unbox enough supplies to create nine postcard-style cards, coordinating envelopes, and die-cut tealight bags. What's even more spectacular about July's kit is the add-on you can purchase along with it! The Summer Nights Add-On includes 24 card bases and envelopes in coordinating Summer Nights designs.
See the UNBOXING on my YouTube CHANNEL
This exclusive Sara-inspired Paper Pumpkin kit is here to help you #sharesunshine. It includes supplies for eight handmade cards and is specially designed to help you create a box full of cheer. Once you've made all the cards, use any leftover pieces to decorate the box. Fill it with yellow goodies, add the included adhesive label, address it to someone special, and brighten their life with a little sunshine!

July's kit is sure to be full of all sorts of other surprises and GOODIES!


All my Paper Pumpkin Subscribers ALWAYS get a hand made personalized card in the mail from me!
Renew or Subscribe to Paper Pumpkin with me!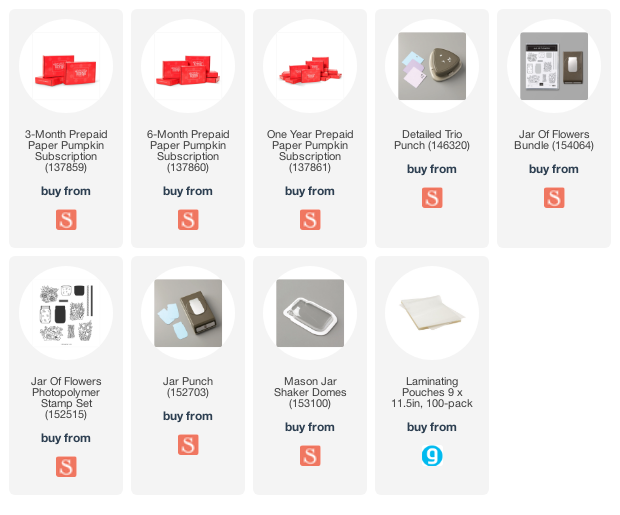 Paper Pumpkin CD Case Inserts/PDF Files
November 2019
December 2019
January 2020
February 2020
March 2020
April 2020
May 2020
June 2020
If there is a PDF you need please contact me (Info below) and I will add it to the list
New subscriber? Now is the best time to try Paper Pumpkin. the 2020 kits are amazing! Plus you get me as your creative coach for extra inspiration. Let me know how I can help you get the MOST out of your Paper Pumpkin Experience. See all my Paper Pumpkin Unboxings and Alternative Cards HERE
Existing subscriber? You can change your subscription demonstrator whenever your subscription runs out, or if you choose to cancel. Sign up with me for all the extras! I would love to be your Paper Pumpkin Demonstrator. See all my Paper Pumpkin Unboxings and Alternative Cards HERE
Canceled subscriber? Are you a former Paper Pumpkin customer? Now's the perfect time to sign up again! This year's Paper Pumpkin is BETTER than ever! Don't miss out on another kit, and the perks of having me as your subscribing demonstrator. Let me know how I can help make your Paper Pumpkin experience everything you hope it can be. See all my Paper Pumpkin Unboxings and Alternative Cards HERE
About
Cindy- Lynn Taylor, Owner of My Inkie Fingers. Creative Coach, Paper Craft Lover, Designer, Instructor & Artist.
Contact Me
Inquires, customers, sponsor, and product review inquiries are welcome to email me using the business email provided below.
myinkiefingers@live.com
Calgary, Alberta, Canada
Shop With Me
24/7 Shopping. I would like to help make your online shopping experience as pleasant as possible. I have included some shopping information for you below.