If I'm being perfectly honest with you, which I always am, I was not thrilled about this month's kit. At first an August 2020 Paper Pumpkin Alternative wasn't coming to mind. It didn't 'speak to me' as the kits normally do. However, after a few days, an idea came to mind! I figured I could do a paper banner tutorial to show you how to make a paper banner!!
How to Make a Paper Banner
You can use this template and copy it or change it to suit your needs. The possibilities are endless! You can change it to Mother, Brother, Sister, or any family member. Make a Halloween (or any occasion) Banner for the upcoming festive season. Or you can try a Friend, Graduation, Retirement, Birthday, or even put a letter on each triangle to spell a word! What ideas are coming to mind for you? Share your ideas in the comments below or in the comments on my YouTube Paper Banner Tutorial. Sharing is caring <3!
SUBSCRIBE TO MY INKIE FINGERS BLOG
*Get notified when I UPLOAD A BLOG POST!*
(Subscribe to Blog Posts & Newsletters. Your email will NEVER be shared)
Paper Banner Instructions
Preparation:
Choose your Cardstock, Designer Series Paper, or use the Cards from the August 2020 Paper Pumpkin – World's Greatest. Cut your pieces to size. I started with 4-1/8 X 5-1/2. You can start with any size you like. The larger the size, the larger the triangle.
Measure the halfway mark at the top of your card stock. Using a pencil mark the halfway point. Cut from the mark to the bottom corner on both sides. Now you have created a perfect triangle.
Choose the pieces from the August 2020 Paper Pumpkin Kit you wish to place on the triangles.
Stamping & Embossing:
Using some Post-it-Tape (or any other mask) and the Father's Day Sentiment from the Well Said Stamp Set, mask everything except the word "Father". Stamp this on one of the trophies.
In the August 2020 Paper Pumpkin Kit, use the World's Greatest stamp. But again, using a mask of choice, mask off one of the words, one at a time so both words end up on the remaining 2 trophies. "World's & Greatest"
Emboss the #1 stamp on each trophy with Versamark & Gold Stampin' Emboss Powder.
Stamp the remaining sentiments of choice from the kit on the 1″ inch circles provided with the Pacific Point Ink provided in the kit.
Stamp the Rosette with the same ink on the largest circles provided in the kit.
Create your Rosette tops by adhering the 1″ circle to the gold mini Rosette, then place those on the largest stamped Rosette with a dimensional.
Setting Eyelets & Brads
I find the best way to make holes and set eyelets is with the Crop-O-Dile. It comes with all the instructions you need to figure out how to set measurements and how to set the eyelet. You are welcome to watch the video above to see how to do it.
Set an eyelet on the top corner of each triangle. Then place your trophies on the triangles and set them in place with a gold brad.
Final Touches & Assembly
Cut the ribbon from the kit to the desired size and use this with a little gold piece of cardstock (from the kit) to place behind your Rosettes. Adhere your Rosettes with liquid glue to the triangle.
Thread ribbon or twine through all of your triangles. Be sure to leave about 5-6″ inches on each end of the banner so you can hang it.
Tip: Each triangle has a right and left hole. When threading the ribbon or twine, go down the right hole and up the left hole. This way the ribbon or twine is hidden behind each triangle. Unless of course, you wish to see the ribbon or twine in the front. Then do the opposite.
**Supply List**
Please use this Host Code if your Stampin' Up! order does not exceed $199.99
(Before Tax & Shipping)
This helps support my business so I can replenish supplies and continue posting on my Blog and making YouTube Videos.
💗 I appreciate your business and support very much! 💗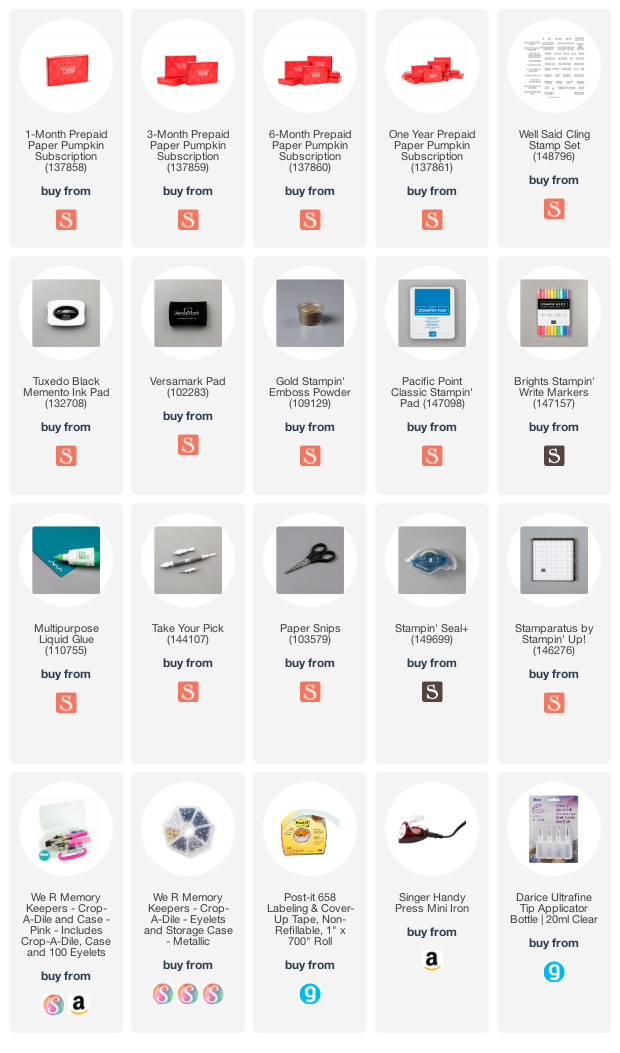 DISCLAIMER: Non-Stampin' Up! links included in this description may be affiliate links. I try to post universal links when possible. However, at times I can only find some items in Canada. If you purchase a product or service with the links that I provide I might receive a small commission. There is no additional charge to you! Thank you for supporting My Inkie Fingers so I can continue to provide you with free content each week!
**Some Non-Stampin' Up! supplies you may see me use I cannot provide links to due to conflicts of Stampin' Up! carrying a similar item. I will mark these items with 2 asterisks if they appeared on my blog.

Until I see you again,
Happy Stamping! <3
Past Classes