Did you see the Live Stream last night? It was so much fun!! I was truly moved by how many of you were not only waiting for the video to go live but how many of you blew up the chat with such an amazingly warm welcome! You sure know how to make Live Stamping Stream Nights a success!!
Tuesday Night Live
I was a little on the fence about committing to Live Stamping Stream Nights, But after the response from all of you last night, Tuesday Nights Live has been born! You sure know how to make a gal feel special. Each week I will consider all your requests and ideas for the live stream event. So if you have something you really want to see, comment here or on my Facebook Group or Page. Let me know what your ideas, thoughts and opinions are. As long as you're loving and watching I'll keep streaming LIVE videos for you.
Want MORE Live videos? Consider signing up for the Stampin' Up! LIVE Online Classes with "ME". Every month you get a fun LIVE class AND A LIVE Stamp & Chat event with me! It's a much smaller group than my YouTube Live Videos and I get to chat with you on a much more personal level. The best part is, you can join no matter where you live! So it's also a great way to support me, my business, my blog, and my YouTube Channel. You can look at the registration details here.
The Clearance Rack has been updated. If you see some goodies you want be sure to snatch them up quickly before they're gone! This is certainly your LAST CHANCE if you see it in the Clearance Rack.
2021 Last Chance Product Sale
If you love great deals, our Last-Chance Products Sale is the perfect time to shop. You'll get deep discounts on your favorite products from the 2020–2021 Annual Catalog—and as an extra bonus—you'll get a peek at the list of items carrying over to the other catalogs. Many items will sell out fast, so don't delay—make sure to share this exciting news with your customers today!
Shop with me today
SUBSCRIBE TO MY INKIE FINGERS BLOG
*Get notified when I UPLOAD A BLOG POST!*
(Subscribe to Blog Posts & Newsletters. Your email will NEVER be shared)
Watch the LIVE STREAM REPLAY
**Supply List**
Please use this Host Code if your Stampin' Up! order does not exceed $199.99
(Before Tax & Shipping)
This helps support my business so I can replenish supplies and continue posting on my Blog and making YouTube Videos.
💗 I appreciate your business and support very much! 💗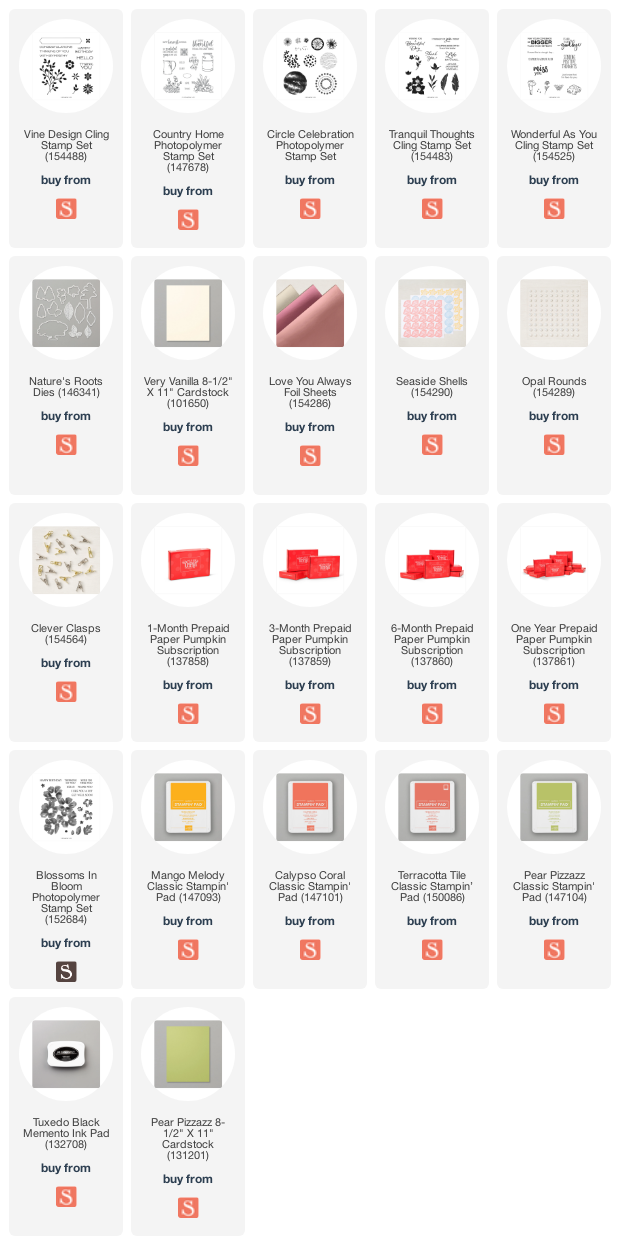 DISCLAIMER: Non-Stampin' Up! links included in this description may be affiliate links. I try to post universal links when possible. However, at times I can only find some items in Canada. If you purchase a product or service with the links that I provide I might receive a small commission. There is no additional charge to you! Thank you for supporting My Inkie Fingers so I can continue to provide you with free content each week!
**Some Non-Stampin' Up! supplies you may see me use I cannot provide links to due to conflicts of Stampin' Up! carrying a similar item. I will mark these items with 2 asterisks if they appeared on my blog.

Until I see you again,
Happy Stamping! <3
Other posts you may like or may have missed…