A new month brings a new stamps order! What could I possibly need?!? Why do I ALWAYS find myself ordering new items from the August – December 2020 Stampin Up Mini Catalog & the Stampin' Up! 2020 Annual Catalog. Either way, I know how much you love to see my new goodies, so I'm sharing my September 2020 Crafty Things | Stampin Up Haul with you.
September 2020 Crafty Things
Stampin Up Haul
I'm honestly at the point now that I pretty much have everything I need and want. There really isn't much left on my wish list. But, before you go and tell me how lucky I am, let me say my bank account has suffered and I have not saved a dime for vacation this year! But hey! Who's going on vacation anyhow? I'll just have a "Staycation" and play with all my new stamps. Tee hee (always look at the bright side!! lol)
SUBSCRIBE TO MY INKIE FINGERS BLOG
*Get notified when a new
BLOG POST

goes live!*

(Subscribe to Blog Posts & Newsletters. Your email will NEVER be shared)

I'm truly most excited about the Christmas Countdown Project Kit, but I'm over the moon with the Magnetic Cutting Plate too! I can't wait to make a video for the Christmas Countdown Project Kit. I have plans to create 2 calendars with one kit. How lucky will Todd be if I choose to do the other side of the boxes for Valentine's? 25 days of Valentine's? That's a lot of goodies!! lol

I also picked up another Simply Shammy, remember I mentioned wanting to try using it as a dish sponge? I'll let you know if it's a success! I'm so sick of stinky, smelly sponges! Arg!

I did get a handful of stamps and DSP, I will link them all below for you so you can see. Most importantly I got my Magic in this Night DSP. I completely used up the last package and needed another one for the September 2020 Online Live Stampin' Up! Class. Are you loving the Rosette Halloween Wreath?

Have you heard about the LIVE Stampin' Up! Online Classes?
Don't miss out on LIVE one-on-one time with me and my class assistant.
Live classes with step-by-step instructions. Ask questions!
Get the answers and help you need IN CLASS!
**Supply List**
Please use this Host Code if your Stampin' Up! order does not exceed $199.99
(Before Tax & Shipping)
This helps support my business so I can replenish supplies and continue posting on my Blog and making YouTube Videos.
💗 I appreciate your business and support very much! 💗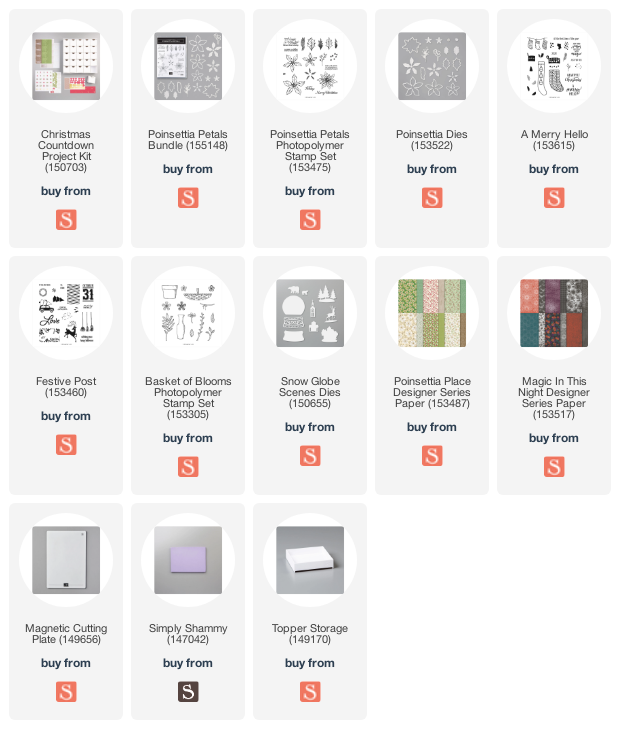 DISCLAIMER: Non-Stampin' Up! links included in this description may be affiliate links. I try to post universal links when possible. However, at times I can only find some items in Canada. If you purchase a product or service with the links that I provide I might receive a small commission. There is no additional charge to you! Thank you for supporting My Inkie Fingers so I can continue to provide you with free content each week!
**Some Non-Stampin' Up! supplies you may see me use I cannot provide links to due to conflicts of Stampin' Up! carrying a similar item. I will mark these items with 2 asterisks if they appeared on my blog.

Until I see you again,
Happy Stamping! <3