As you probably already know Basic White has replaced the long-time beloved cardstock, Whisper White. Personally, I'm not sad to say goodbye to Whisper White, are you? In today's Stampin Up Basic White Cardstock Review, I will tell you exactly why I'm not sad, and whether or not I like the NEW Basic White replacement.
Stampin Up Basic White Cardstock Review
I pride myself on always being honest and transparent with all of you. And today's post and video, I continue the trend of telling you exactly what I think! I will dive into what I didn't like about Whisper White, and if those things changed with the new Basic White. I will compare Basic White to my current favorite cardstock (watch the video below to find out what it is) and test it in the top 6 categories that make me decide if I love or hate a cardstock.

One of the main things I look for when testing cardstock is color. It just HAS TO BE WHITE!! There are so many shades of white, and if the shade is off, I'm out! I demonstrate this in the video below exactly what I mean by 'shades of white'. Some other things are, price (of course), does it bleed when I color my stamped images, does it fold nicely (yes, some cardstock doesn't!), and does it stand over the test of time? Or will it flop, slide and fail when standing?
With all of the time and effort you put into creating a handmade card have you ruly considered the cardstock you are putting it on? Let's dive right into a true cardstock comparison!
*Get notified when I UPLOAD A BLOG POST!*
SUBSCRIBE TO MY INKIE FINGERS BLOG
(Subscribe to Blog Posts & Newsletters. Your email will NEVER be shared)
Cardstock Comparison Results
*See the video above more a more detailed comparison*
📢
MORE VIDEOS

📢

Come see what's happening on our OTHER YOUTUBE CHANNEL!! We're so excited to bring you more personal & fun videos. Support us by visiting, subscribing, watching, liking, and commenting.
Thank you soooo much for all your love & support! xoxo
HOST CODE
***IMPORTANT***
If your purchase is $200.00 or more (before taxes and shipping) do NOT use this host code. You will get your own host benefits.
Every $50.00 purchase you place with me earns you an "Inkie Bestie" Membership for the following month. You will be emailed your Inkie Bestie Bundle by the 3rd of the month following your qualifying purchase. Shop with me here: My Inkie Fingers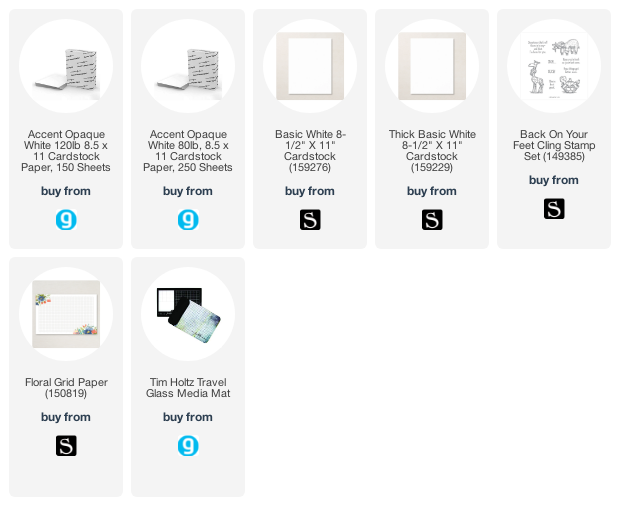 Disclaimer:
Non-Stampin' Up! links included in this description may be affiliate links. I try to post universal links when possible. However, at times I can only find some items in Canada. If you purchase a product or service with the links that I provide I might receive a small commission. There is no additional charge for you! Thank you for supporting My Inkie Fingers so I can continue to provide you with new blog posts & videos.
Have you heard about the LIVE Stampin' Up! Online Classes?
Don't miss out on LIVE one-on-one time with me and my class assistant.
Live classes with step-by-step instructions. Ask questions!
Get the answers and help you need IN CLASS!
Other posts & videos you may like or may have missed…
Life Update on VLOG Channel – Our Inkie Life
Until I see you again,
Happy Stamping! <3