Welcome to my new Limited Mini-Series – Christmas in July. I will make 5 cards over the next 5 weeks and upload a Stampin' Up! Christmas Card Tutorial for you every Thursday at 8 AM (Mountain Time) to my YouTube Channel & Blog. Subscribe to my Channel so you don't miss any fun Stampin' Up! Christmas Cards Videos this month!!
Stampin' Up! Christmas Cards Series
I'm so excited to launch this series for the month of July. With everything going on in the world, I think we all need a change of pace. Something new and exciting to get our minds off things. What a better way to do this than start making some Stampin' Up! Christmas Cards!!
Oh my GOSH!! The new Stampin' Up! August – December 2020 Mini Catalog is PACKED with NEW and returning Christmas sets! I'm going to be poor all month, as I'm spending ALL my money on new sets, suites, and bundles. While I cannot show you the catalog until August, I can surely show you ALL the goodies I'm ordering. Be sure to watch for my UNBOXING VIDEO. I will upload it the very same day my order arrives.
This card was actually really easy to make. You could easily make a couple of them at once. I used the Rustic Retreat & Peaceful Boughs Stamp Sets. All supplies are also listed below in this post. I added the new In Good Taste Elements, Forever Greenery Metallic Thread, & the Elegant Faceted Gems as they all go together so well. I did throw in a few other embellishments to really make everything pop. There are a LOT of new items on this card combined with some returning sets that worked perfectly for this Christmas Card.
*Get notified when I UPLOAD A BLOG POST!*
SUBSCRIBE TO MY INKIE FINGERS BLOG
(Subscribe to Blog Posts & Newsletters. Your email will NEVER be shared)
More Photos
Click LEFT or RIGHT to view photos
HOST CODE
***IMPORTANT***
If your purchase is $200.00 or more (before taxes and shipping) do NOT use this host code. You will get your own host benefits.
Every $50.00 purchase you place with me earns you an "Inkie Bestie" Membership for the following month. You will be emailed your Inkie Bestie Bundle by the 3rd of the month following your qualifying purchase. Shop with me here: My Inkie Fingers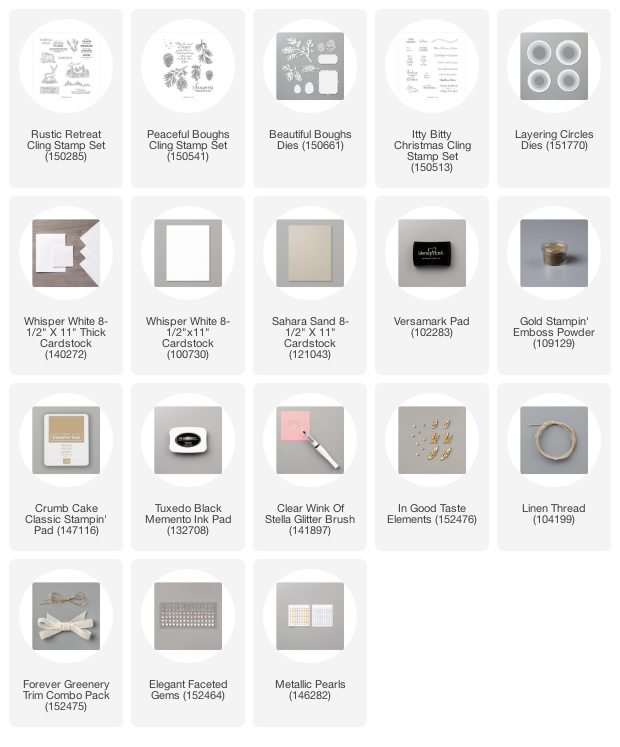 Until I see you again,
Happy Stamping! <3
Past Classes